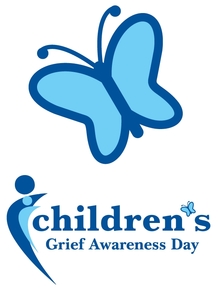 When a lot of people think of advertising, they imagine intrusive pop up ads and silly commercials for products. Non-profit and public service campaigning isn't usually the first thing to come to mind. But plenty of non-profits and health organizations use advertising to raise awareness for important causes that rely on others' support and contributions.
Today I wanted to do a small shout out to raise awareness for one of these important public causes: Children's Grief Awareness Day. It is is designed to help us all become more aware of the needs of grieving children — and of the benefits they obtain through the support of others. Children's Grief Awareness Day is an opportunity to make sure that grieving children receive the support they need.
Today I am showing my support by wearing blue! This is a topic that I find very important because of how much I care for the children in my life. Grief is hard enough for anyone, let alone a child. So this day of awareness is deserving of a little more publicity, and I am doing my part by wearing blue and telling all of YOU about the importance of today. You can read more about Children's Grief Awareness Day
here
.